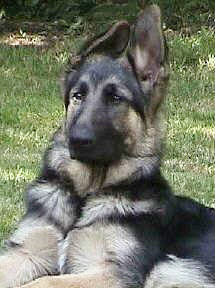 Free German Shepherd Puppy Kindergarten classes help teach the owners of German Shepherd Puppies about how to care for their puppies including:
housebreaking
teething
proper puppy behavior
praise and correction
basic household commands
getting the puppy's attention
teaching the puppy to sit, down, and come when called.
Puppies are also given play time during each class to socialize with other puppies, children, and people in the class.
The focus is on developing behaviors which will ensure a well-behaved, well-mannered adult German Shepherd Dog.
Puppy Kindergarten is offered to anyone who owns an AKC registered German Shepherd puppy, between 10 weeks and 6 months. You do not have to be a member of the Club to attend.
We DO recommend you check with your veterinarian to determine which vaccinations your puppy should have prior to attending a class where a large number of dogs are also training.
Puppies must be healthy and current on their inoculations as recommended by your veterinarian. We will ask to see your puppy's shot records before they attend class. These precautions protect your puppy AND other puppies attending the class.
For more information, contact Diane S at (262) 251-8325.
NO AKC PAPERS? NO PUPPY!
Pick up your papers with your puppy!
If you buy a purebred puppy that you're told is eligible for registration with the American Kennel Club (AKC) at the time of purchase, you are entitled to receive a registration application for from the seller that will enable you to register your dog.
If the registration application is not available at the time you acquire your puppy, the seller must provide a signed bill of sale and full identification of your dog in writing with the following details:
Breed of dog
Date of birth
Sex
Color
Register name and numbers of the dog's sire (father) and dam (mother)
AKC litter number
Name of Breeder
Date of Sale and Date of Delivery
Signature of the seller
When acquiring a purebred dog that is eligible for AKC registration, don't be misled by promises of "papers" to come later. Demand a registration application form or proper identification (described above). If neither is supplied, DO NOT buy the dog. Click here for more information...

Interested in owning a well-bred German Shepherd puppy?
Contact Diane S at (262)-251-8325 for information on available puppies. Our breeders inform Diane when they have puppies or older dogs available for placement in new homes. Our breeders are very interested in finding the right puppy for your home and do not sell their puppies online.