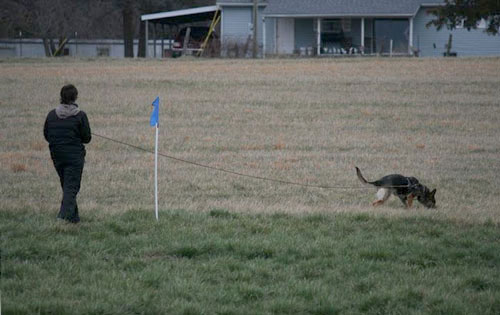 Tracking is a canine sport that demonstrates a dog's natural ability to recognize and follow a scent and is the foundation of canine search and rescue work, along with other working service venues. Unlike obedience and agility trials, where the dogs respond to the owner's commands, in tracking, the dog is completely in charge for only the dog knows how to use his or her nose to find and follow the track. The handler, in the teaching process, forms and guides the dog's behavior and creates and channels the drive to complete this complex task.
The GSDCW offers tracking classes designed to create appropriate tracking foundation and to educate both handler and dog in the sport of tracking. Though it requires a time commitment, tracking is a natural as it gets, allowing our GSD's with their impeccably accurate noses, to learn focused tracking and to enable the handle/dog team to compete in AKC Tracking events such as the TD, TDU, TDX and VST. For the ambitious, a Champion Tracking Title (CT) exists to showcase the skills of a dog/handler team that obtains a TD/TDU, TDX and a VST.
More practically, tracking is fun and a natural way to empower the dog and enrich the dog/handler bond. For individuals that show the commitment and interest, it is the first step in any foundation for advanced tracking or service tracking work. From learning the basics of laying your first track, to teaching correct article indication to solving a long, winding, complex track or urban track, tracking is an incredibly rewarding venue that we are proud to offer.