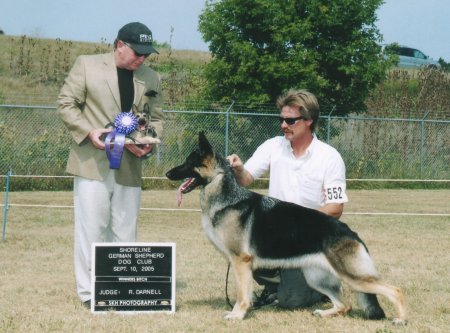 Conformation classes teach you how to show your dog in the conformation (breed) ring.
They are useful to help young dogs develop confidence at an early age.
Conformation is much more than just "running around in circles" and "looking pretty."
Every purebred breed has a standard, a word picture that describes the purpose of the breed and how the ideal dog of that breed should look and act. The conformation (breed) ring is designed to evaluate the structure of the German Shepherd Dog relative to the breed standard. Read the German Shepherd Breed Standard.

Why does structure count? It is very important in the German Shepherd Dog. A correctly structured dog will be able to more easily function while walking, participating in agility or herding, and other tasks that involve running and cornering. A correctly structured dog can run and play longer without tiring as easily because it takes less effort. If you've ever watched swimming or gymnastics at the Olympics, you can readily see the impact structure has on successful competition in those sports.

Since the original purpose of the breed was to herd the sheep all day, serve as a companion to the shepherd away from home and protect the shepherd and the sheep from predators, it was important that the dog cover the maximum distance with the fewest steps as well as be healthy and have outstanding character.
A correct German Shepherd Dog is an outstanding blend of health, structure, temperament, character, and trainability and embodies the "look of eagles".

"Well bred. Well Trained."